Free Online Workshop – Security Awareness : Story From The Dark Side by BlueTeam.ID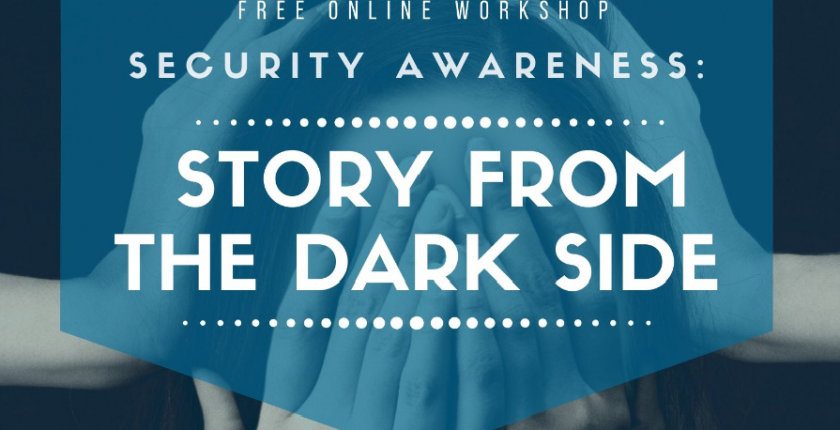 Halo Sobat Defender!
Sebagaimana informasi di Workshop kedua kemarin (Reverse Engineering for Blue Team), kami akan melanjutkan rangkaian Free Online Workshop kami yang ketiga. Workshop ini kami adakan untuk mengedukasi teman-teman di bidang Cyber Security, khususnya di ranah Blue Team.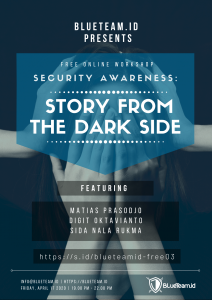 Workshop Ketiga ini akan sangat menarik, karena kami mengusung tema "Security Awareness : Story From The Dark Side", dimana kami akan mencoba memberikan paparan mengenai pentingnya Security Awareness untuk semua level dalam Organisasi anda, serta bahaya yang mengincar jika ada elemen di Organisasi anda yang tidak aware terhadap aspek Cyber Security. Pemateri pada Workshop ketiga ini adalah Om Matias Prasodjo yang sudah malang melintang di industri Cyber Security, dan juga aktif di berbagai komunitas seperti Ngesec, dan banyak komunitas lainnya.
Workshop ini akan di adakan pada :
Hari : Jumat 17 April 2020
Waktu : Jam 19.00 – 22.00
Link Registrasi Course : https://s.id/blueteamid-free03
Sampai Jumpa di Workshop kami! Jangan Sampai Ketinggalan!
Long Live Cyber Defender!
Salam Hangat
Tim BlueTeam.ID (Wahyu Nuryanto, Sida Nala Rukma, Digit O)