Triage Incident Response Using Kape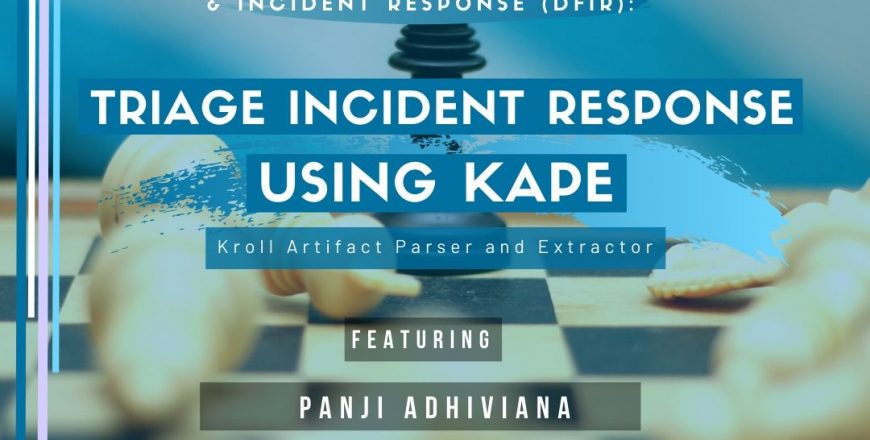 Halo Sobat Cyber Defender
Kembali lagi bersama BlueTeam.ID. Kali ini Kita akan mengadakan free short workshop mengenai Triage Incident Response menggunakan KAPE.
Ada yang sudah pernah menggunakan KAPE? KAPE cukup populer belakangan ini di kalangan IR karena flexibilitas nya dan Juga kemudahannya dalam melakukan Triaging dalam Incident Response. KAPE sangat populer akhir-akhir ini di kalangan praktisi DFIR. KAPE juga masuk dalam salah satu nominasi DFIR Non-Commercial Tools 2020 oleh Forensic 4Cast : https://forensic4cast.com/forensic-4cast-awards/2020-forensic-4cast-awards/
Workshop Kali ini akan di bawakan oleh Panji Adhiviana, Incident Response Team di sebuah perusahaan Consulting di Jakarta. Mas Panji akan menjelaskan secara singkat mengenai KAPE beserta fitur yang Ada di dalamnya.
Buruan register, dan enroll course pada LMS Blueteam.ID ya.
Thanks.
Long Live Cyber Defender!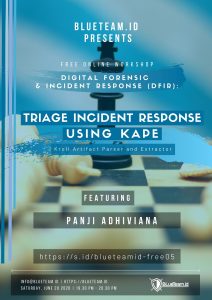 1
Triage Incident Response Using Kape – Workshop Video
2
Triage Incident Response Using Kape – Feedbacks Form
Be the first to add a review.
Please,
login
to leave a review